Today's guest post comes from a local friend and writer, Leah Dunham. She is sharing her all too common story of her postpartum period. Thanks Leah, for the courage to tell your story.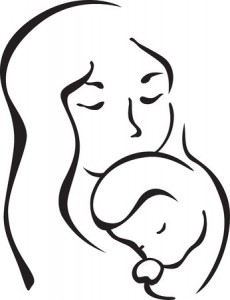 As a child I often imagined myself as a capable mother.  My sister and I played "house" with our cabbage patch dolls for days, sometimes even weeks, on end.  At one point, we asked my mother if she could build an addition on our house linking our bedrooms with a series of customized spaces for each of our eight baby dolls!   Pretty ridiculous.  Imagining our babies' complicated lives and caring for them was so much fun – effortless even!
And while I had learned a thing or two by the time I birthed my first child – primarily that childrearing would not be effortless; real challenges come with real expectations – I was in no way prepared for the series of unexpected events that would unfold following my son's birth.  And, if I'm being completely honest, I am still, two and a half years later, working to recover from the depressing storm that overtook much of my first postpartum experience.
In a nutshell, I quickly realized that my beautiful baby had bile stones accumulating in his liver.  For two weeks during month two, I was convinced that he would die due to liver complications or end up at the bottom of a long transplant list.  Throughout this stressful time he was literally sucking the calories right out of me, unable to digest the fat from my milk, nursing sometimes twenty times a day and blowing out his diaper ten or more.  I was exhausted and having a tremendous amount of difficulty recovering from both a long labor and an emergency c-section.  But, even so, I was too scared to sleep, afraid I might miss a wakeful opportunity to help my ailing son.
After an unimaginable month, my son underwent a procedure at Boston Children's Hospital that alleviated these fears and helped both he and I begin a journey toward recovery.  In the months that followed I would struggle with new waves of self-doubt, fatigue, and depression.  I couldn't shake the feeling that I might wake up to find him incredibly ill again, or my new knowledge that some unanticipated event might completely consume my personhood.  I had been forced into a position of selflessness: my degrees, career, and previous accomplishments seemed useless.  Nonetheless, ambition still burned.  It reemerged as a demon that haunted my deepest sleep.  Would I ever feel healthy, energetic, or ambitious again?  What about my career?  Could I be content, not with my baby, but with my former creative and industrious self?
I suspect that these questions might resonate with other mothers because it doesn't take a health scare to feel like motherhood can be all consuming.  I began to envy other people's lives because they seemed to have so much more time and energy to pursue their goals.  If only I had a less stressful job or a more functional kitchen, life wouldn't feel so difficult. I thought that these missing things might make me feel better but really I'd lost touch with my emotional needs.  I hadn't set aside time to reevaluate my priorities and expectations as a new mom.
After having a second child, I decided I owe it to my kids to reconnect with a certain level of personal contentment.  I don't want bitterness or regret to swallow opportunities to enjoy time with my family.  So I started journaling, setting aside time to write about my dreams, my health, and my regrets.
What I've learned seems far from revolutionary.  Yet, some days my outlook feels so improved that I know a small revolution has taken hold.  Most of this feeling stems from the simple re-realization that contentment is not something I can find or achieve.
It is easy in our culture to assume that other people have it better or that our own lives will improve with just one more raise, one more successful project, or one more thing.  The somewhat frightening reality is that nothing we do or acquire today can guarantee contentment tomorrow.  This may be more apparent to new mothers because childrens' needs often throw their plans entirely off track. During this time it is especially important to enjoy the moment while it lasts.
I've personally found that my requirements for a content moment are pretty simple.  I need something creative to do, something to look forward to, and supportive relationships.   Even so, maintaining contentment can be difficult.  I have to constantly remind myself that being present takes practice.  I have to actively ignore cultural messages that encourage human beings to want something more or better.
Two messages prolonged my ability to overcome depression following my initial pregnancy.  They reemerged in my thought process over and over again.
The first has probably been engrained since childhood:  a message that I must do something big or original to be successful.  I cannot count how many times an adult told me, as a child, that I would do great things someday.  Similarly many adults told me that they hoped I would be truly happy as though a state of true-forever happiness actually exists.  Few people encouraged me to be happy in the now.  Few people wondered if I'd already found some level of contentment.  Admittedly, I've often put pressure on myself to find or discover these elusive permanent states only to wind up feeling bad when I've been unable to do so.  I don't want to share this message with my kids.  I don't want them to feel that they need to be discovered or do anything particularly big to acquire self-worth.
The other confusing message that took root during my pregnancy, despite active attempts to ignore it, was the idea that new moms don't need to let their babies interfere with their social lives, love lives, body type, or professional goals.  Parenting magazines spell out how you can get your body back, your time back, and your career back in a matter of weeks!  The reality, however, is that, even if your baby is healthy, these things will change.  Furthermore, your dream for yourself may morph into something entirely different as circumstances demand you to reimagine contentment as a daily opportunity rather than an evasive end-goal.
It is both unexpected and ironic that my own dreams have shifted from an expectation that I must do something grand to an acknowledgment that I am happiest doing many small, but different things throughout my day – things I've enjoyed almost everyday since I was four:  playing house, being a non-specialized homebody, cooking for my babies, gardening, and setting aside a few minutes to journal out a song, a poem, or a vision.  I will likely never be romantic-comedy happy; there will always be day-to-day chores, annoyances, and frustrations.  But I can be content with what I have and okay knowing that positive and negative feelings won't last forever.  In fact, it's been a huge relief to let go of my fruitless and incredibly frustrating search for a permanent state of mind that doesn't exist!  In the process, I've learned to appreciate more opportunities for happiness and have become more open to relinquishing control over the future.
Leah Dunham is a mother and public school teacher.  She has published poems in the Oneota Review and the Valley Voice. She is also the coauthor of America's Two-Headed Pig, a book about animal health and nutrient deficiencies.  To read more about this project visit http://www.americastwoheadedpig.com
Copyright: oxygen64 / 123RF Stock Photo