Every year I've lived in the Pioneer Valley, I've had a Community Supported Agriculture Farm Share. Over the years I've learned the differences in types of cabbages, the various colors that tomatoes, carrots, beans and beets come in and I've learned the proper way to pick and store dozens of vegetables and fruits. Over the years I have learned that without question or contemplation my favorite thing to pick is tomatillos.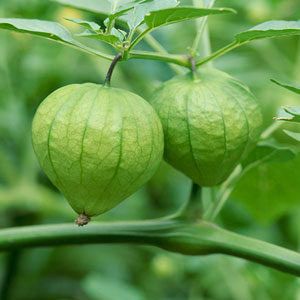 Image Source: http://www.organicgardening.com/learn-and-grow/tomatillo-growing-guide
Several years ago I didn't know what tomatillos were, let alone how you knew when one was ripe and what you would do with them once they were in your kitchen. Now I know that tomatillos are the same shape as a typical slicing tomato except much smaller—think the size of a typical grocery store tomato in mid-February. Tomatillos are green like the color of a granny smith and when you slice into them they are hard and dense, but with a similar structure to a tomato. It feels again like slicing into a never-going to get ripe grocery store tomato.  Except the perfect tomatillo is always firm, it doesn't soften. The taste for those of you who don't know is sweet—somewhere between an apple and a tart grape and is excellent on sweet salads with beets, dried cranberries and goat cheese.
But it is the size and shape that I find most satisfying. Tomatillos are grown wrapped in a husk. These husks look like little Chinese lanterns as they growing and eventually the fruit inside fills the Chinese lantern-like husk completely and the husk splits open at the base and the fruit continues to grow. When picking tomatillos you look for the dense husks that are now rounded into small globes and you flip them over to see if the fruit has exploded through at the base. If the husk is still holding the fruit it is not yet ready. However if the fruit is exposed and the shock of green is visible then it is yours for the taking.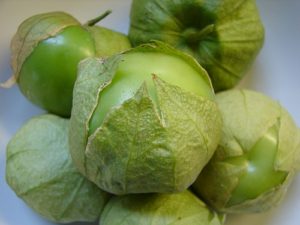 Image Source: http://plantfreak.wordpress.com/2012/02/13/tomatillos-come-with-their-own-packaging/
In order to pick a tomatillo you must cup your palm around the base of the fruit and let the fingers come together close to the stem. A perfect tomatillo fills the palm perfectly. It is as if our hands were made for picking tomatillos. With one quick pull downward the fruit is released from the plant and your hand is left cupping one perfect summer explosion of husk and smoothness.
This metaphor of a growing space in which one can be fully protected and supported is not lost on me. Nor is the necessity to grow large enough to eventually break through and be bigger than your growing space. It is not only the perfect example of summer abundance it is the perfect example of healthy growth. We are all destined to be a little brighter, a little sturdier, a little stronger than all the people who raise, teach and support us.
I look at my patients, my students and my loved ones and I see the moments in their lives when the need for emergence is imminent, but delayed for fear of living a life bigger than what they know. Their lives have always been safe inside the husk of the familiar and in order to be truly happy they must break free and make their own way.
There are so many ways to learn from nature, in this moment of mid September harvest abundance I suggest you find yourself in a tomatillo patch and let these tiny globes invigorate you to make the change you need in your life. They don't look afraid to leave their cocoon, they look excited.