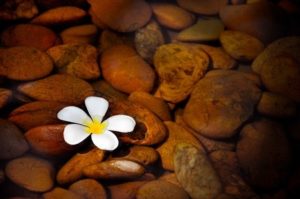 In the fall of 2006 I started reading, studying and vaguely practicing the Law of Attraction and exploring the philosophic concepts of attracting Abundance. The Law of Attraction was quite easy to believe when I was on the brink of disaster and could see light spots amidst true darkness. Somehow I tapped into some universal flow, trusted it was right and I began a full transformation. I was able to slowly release myself from a job that was destroying my mental health and move seamlessly into starting a self-directed career in yoga teaching and writing.
Looking back I realize that was hardly the first example within my life, but it was the first time I was made aware of it and it was the first time I had practiced that level of trust and release of expectations.
Half a year later we were planning to move from Maine back to Northampton and there were some significant stumbling blocks. We both didn't have jobs, we were sharing a car, he wanted to go to a career discovery workshop for the entire summer, and we didn't have a plan of how to find an apartment from Maine. For months we would create scenario after scenario of how to make these complicated logistics work. We started fighting, I started stressing and nothing budged.
Finally we decided to trust that moving to Northampton was in fact the right decision. I had lived in Greenfield and Hadley before moving to Maine and I was desperate to go back to this place that felt intuitively like home. We started imagining the Hadley cornfields and the Holyoke range and the sweep of the Connecticut and we just paused. That is when it happened. One afternoon my husband called me up and asked if I could meet him at work to test drive a car. A friend of his was leaving the country and needed to sell a car, quick and cheap.
That afternoon we test drove a fancy sports car, with very few miles and an absurd asking price and wrote him a check before dinner. We walked back to our apartment in stunned silence talking about how amazing this opportunity had been. But at home we had a voicemail message waiting with a job offer that doubled my husband's current salary, allowed him to do something he was very passionate about and allowed him to work from Northampton out of our home. We were stunned. Then to top it off my husband checked his email and there was an email from a family member who lived in the Amherst area asking if in the midst of our transition to Northampton we might like to housesit for them for all of July and most of August.
In the course of two or three hours our path to move to Northampton was set and it was so obvious then and has been for the last seven years that we are meant to be here. This is where we would fully start our life. This is where we could do the work that would have the most benefit.
I've been thinking about the spring of 2007 a lot since April when Window of Heaven Acupuncture & Yoga started looking for a new office. My suitemate was very up front with me when I signed my original lease that when her kids were big enough that she would want the space full time. I knew the time was coming and this April I started hunting. But I didn't sit back and trust that I would find something. Repeatedly I panicked and stressed and stewed. I worried I would need to close down completely in September and be homeless. I worried I would lose money and momentum if I couldn't find a space or worse I would settle for something terrible.
With all the panic came lots of showings of disgusting office spaces with no windows or horrible views, strange smells and everyone saying absolutely NO MOXA! I didn't trust the world and so the world kicked distrust right back at me. Finally after returning from vacation I plowed back into panic mode and burned out completely. I just got too tired of checking listings and worrying and I started napping more. Napping always makes my stress better.
Friday night last week my husband and I went to the sidewalk sales and got Indian food and sat on the courthouse lawn and listened to the swing band concert. That is how I found Window of Heaven's new office, while having fun. As the music was dying down we packed up our picnic dinner and headed out maneuvering amongst the crowds and I recognized a face. I ran through all the different crowds of my life in the Valley trying to place who she was. Was she a church friend, a YMCA student of mine, a birth professional, an acupuncture friend, an architect friend of my husband's? She smiled back and I immediately realized she was a friend from my yoga teacher training and I had not seen her in four years.
We stood amidst the crowds and chatted about my business and her business. She asked about my space in the Fitzwilly's building and as I described it I took a risk and said that I was actually planning on leaving soon and looking for a space. She said she would put me in touch with her landlord who has a few buildings in Northampton and with an exchange of a phone number I was set.
In the midst of a chaotic week before we drive out to Cincinnati for a funeral, I set aside time to see the available office spaces and frantically wrote this landlord a check yesterday on a space that Window of Heaven Acupuncture & Yoga feels destined to find.
My new office space is a sanctuary. It will be a place where my pediatric patients can cause a ruckus and play while they get their treatment. It is a place that will immediately soothe patients upon stepping past the threshold. It feels cozy and private and does not smell like delicious burgers. There will be no cheering from the bar below when the World Cup is playing in the middle of the day. And the building has excellent insulation and a brand new heating system and soft southern and western sunlight. It is delightful.
I used to believe that success came from hard work, diligence and plenty of worry. But the universe keeps proving to me that the biggest successes happen when I stop worrying and have fun. One of my teachers used the phrase "relaxed intensity," working only when the brain was clear and rested and then finishing and living life after business hours. If there is some answer you are waiting on, I highly suggest you go to the movies or go to your favorite swimming hole or go cook a delicious meal and eat it outside. Give in to joy fully and there will be more joy to follow.
Copyright: zhadowz / 123RF Stock Photo