Love is not primarily a relationship to a specific person; it is an attitude, an orientation of character which determines the relatedness of a person to the world as a whole, not toward one "object" of love. If a person loves only one other person and is indifferent to the rest of his fellow men, his love is not love but a symbiotic attachment, or an enlarged egotism. Yet, most people believe that love is constituted by the object, not the faculty. In fact, they even believe that it is a proof of the intensity of their love when they do not love anybody except the "loved" person. This is the same fallacy which does not see that love is an activity, a power of the soul, one believe that all that is necessary to find is the right object—and that everything goes by itself afterward. This attitude can be compared to that of a man who wants to paint but who, instead of learning the art, claims that he has to just wait for the right object, and that he will paint beautifully when he finds it. If I truly love one person I love all persons, I love the world, I love life. If I can say to somebody else, "I love you," I must be able to say, "I love in you everybody, I love through you the world, I love in you also myself."
-excerpt from The Art of Loving by Erich Fromm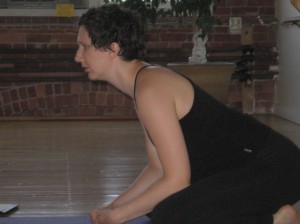 In a week of various inspirations it is hard to know why one thing catches my heart and soul more than another, but this week it was this passage that my husband read to me last night after we had squabbled.
This week I have been trying to write the story of why I am an acupuncturist, why I teach yoga and why of all the options available I am practicing medicine in this format and style. It is not an easy story to tell and one that exposes years of flounderings and weakness. Yet after my husband read this to me last night I realized that the most embarrassing part of my professional journey is the depth of anger, despair and hatred that I experienced in the darkest parts.
My ability and innate need to feel compassion and empathy for people started to dry up. My trust in humanity and the basic good in people did for years disappear. Looking back I think that is really why I left. I needed to love again.
Sometimes jobs can be like lovers or partners in that way. We spend a lot of quality time with them and give them the best of ourselves. They either allow us to learn how to fully love the world and ourselves, or they slowly start to make us hate ourselves and the world.
In 2007, I decided to pursue the only pure thing I knew. I blindly and rather foolishly signed up for a yoga teacher training. It was a one month immersion and I was far too unstable emotionally and mentally to go do something so vigorous. For the first two or three weeks of my training I was so weak I refused to do downward facing dog and modified every single pose. The people I met in my training opened my heart again. Safe in the little cocoon of Kripalu I put myself back together and emerged from my training with two solid and surprisingly strong feet beneath me.
A month out of teacher training I was teaching three to four classes a week and started private yoga lessons with an 85-year old woman with extremely limited mobility. The world opened and allowed me to breath in all my lessons at once. Private yoga lessons were challenging, but revealed my long history of self-study and exploration. I found myself making up modifications and intuiting what postures and breathing techniques would be helpful. It came so easily that my confidence surged.
About a month after returning from my teacher training I started looking for jobs in the Northampton area from my little apartment in Maine. In one absolutely crazy moment I found an ad in the online version of the Daily Hampshire Gazette advertising a position for a yoga teacher at the Hampshire Regional YMCA. It was so perfect, it was absurd. I slapped together a brand new resume that showcased my movement history and faxed it off to a random stranger. A week later I had an interview and 20-minute teaching demonstration lined up that required a 3.5 hour drive in both directions.
At the time I couldn't believe they hired me with almost no experience and no local references. However after I started teaching and the feedback was not just positive, it was astounding, I started wondering if maybe this is what I was supposed to do with my life. Even early on students were commenting on how I was changing their practice and really teaching them the information they had struggled with for years. It must be my life's work if it could happen with such pleasure and ease.
Teaching has taught me how to love in a way I never would have learned in any other profession or in any type of relationship. The practice of yoga and the depth of body awareness and understanding that it brings is unique in the world of movement and fitness. The postures are designed to reveal the mysteries of the body and the mind. Teaching this process of self-discovery exposes people right in front of my eyes. Over the years I have witnessed anger, rage, sadness, bewilderment, mania, depression, hopelessness and the earliest flickers of hope on the mats laid out in front of me. It is a privilege to hold witness to the coming home of a soul and I've seen it slowly happen countless times.
I received a master's degree in order to become an acupuncturist and herbalist. The study was complicated and thorough and tons of fun. I am an acupuncturist who sees medicine through the mind and eyes of a yogi. I am a writer who writes from the body. I know the most prestigious career I pursue is that of being a yoga teacher. I introduce people to their bodies for a living. I am so blessed that people show up every week and ask for new and deeper levels of introduction.