Yoga classes are a must in the month of December. My gentle classes get bigger this time of year and the anxiety level of the people walking through the door is usually heightened. However, one yoga class a week usually isn't enough to help you deal with the influx of family, travel arrangement, holiday shopping, increased traffic and the general buzz of busyness between Thanksgiving and Christmas.
Rather than giving up early, this year keep these simple postures in your mind for the 4pm slump or the 7pm about to walk out the door to your partner's company Holiday party.
Necessary Props
Yoga Mat (or two hand towels rolled the long way together)
Yoga Bolster (or two bath towels rolled into a tube that is as wide as the towel)
Blanket folded to about 1.5 inches high
Yoga Blocks (or two dictionaries and two thesauruses roughly the same size)
Eye Pillow (or clean sock, handkerchief, scarf, etc)
An empty wall
2-20 minutes of personal time without phones, family members or email
1) Legs up the Wall
This is the Slow-It-Down Pose. Though the pose is invigorating as it drains old blood from the lower body up to the heart and brain, this pose invites you to fully yield and give over to the earth. Arms out to the side—opens the chest, arms up over the head—stimulates the body, hands on the belly says—take as much time as you need. Come down before the legs go numb and your family goes to bed.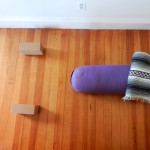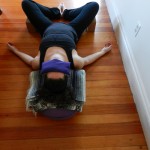 2) Supta Baddha Konasana
This is the Make-Time-For-Me Pose. Some of us give way too much all year long but it shows up now with more force. If you are feeling depleted and need reviving open your heart and allow the lungs to take some full breaths. Give it at least 10 minutes for the heart to start opening.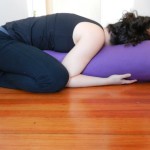 3) Supported Child's Pose
This is the Get-Away-From-The-World Pose. Regular child's pose allows practitioners to put their head in the sand, but supported child allows you to rest there in the sand for a long time and maybe shed a few tears (if need be) without anyone knowing. You decide how long you need in this pose.
4) Supported Bridge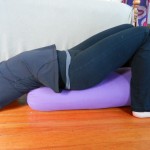 This is the Power Pose. Drawing blood up to the heart and the brain will stimulate the body to help you move on with the last deeds of the day. 2-4 minutes=30 minute cat nap.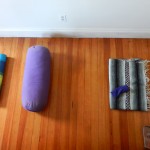 5) Super Deluxe Savasana
This is the Calmest-Yogi-in-the-World Pose. This time of year everything gets a little snazzier. Check out this supported savasana, which is better than any chocolate dessert. Set a timer for 15-20 minutes and be blissful. Cover up with a blanket and fully float away.