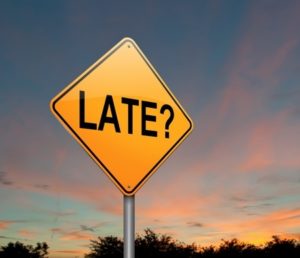 I was late again this morning. I am starting to believe that of all of my flaws tardiness is the greatest. Not only is being late rude and distinctly unprofessional, it wrecks havoc on my body and mind. It is a life long trait and one that I have struggled to pull apart and understand in the past. Each time I talk about my tardiness with a friend or my therapist or even my ever-patient husband, I can't seem to make heads or tails of this fault. I've had therapists in the past tell me to be more organized, leave ahead of schedule, blah, blah, blah, blah.
As I am recklessly and crazily biking to whatever the engagement is I always think about how I spent the time at home. This morning I was late to my first patient appointment because I was organizing my underwear drawer and all of my jewelry. Something one just can't use as an excuse. I know, I'm sorry I'm late again, but now I can find my socks and the appropriate underwear for the day without being bogged down by all my winter long underwear. My students and patients really don't want to know what household projects kept me from being prompt they want me to be prompt or even early so they can check in with me about the worries on their minds.
We all have these sticky spots in our life that are detrimental but seemingly unfixable and complicated. Things we just know we should do differently but can't seem to figure out how to change. This list of very familiar faults is/can be the basis for the story-telling and creativity of clever excuse-making.
Or am I the only one who does that?
My excuses are so good I actually get confused as to their validity. I am late between patient appointments because I just care so much about my patients. I am late to the office because I commute by bicycle. I am late to my yoga classes because we just bought a house and we are doing a major renovation. I am late because I am building a business. I am late because I am taking care of my husband and being a wonderful wife. I am late because I am tired and run down. I am late because I over commit. I am late because of traffic or not knowing where my spring coat is hiding or because we don't have a good place to keep my bicycle.
Or on the bad days, in absolute fury I blame my husband for everything. It is his fault he didn't help me through every single step of my morning like I was three years old. If he had done that I would be on time. Really this line of thinking isn't going anywhere productive.
I could keep listing excuses on and on for days. It doesn't matter how good the excuse, I still showed up late.
For years I've been chastising and criticizing myself, but it hasn't changed a thing. My life just gets more and more balanced, I just get more and more healthy and the tardiness doesn't fade. So I've got a new theory. Just like kicking up into handstand or pushing up into wheel, I'm going to see this as the new practice. This is what the universe is requesting I work on next. How lucky I am that I have a fault as consistent as this to explore.
What is your practice at the moment? What little fault of yours do you need to first accept and honor before trying to change?
Copyright: / 123RF Stock Photo