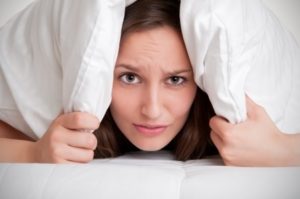 I love my job. Six mornings a week I wake up without setting an alarm. I don't have a boss and I set my own hours. I commute a mile to work on my bike and make people feel good for a living. Plus, I just got the cutest little office up in the eaves, tucked away in the quietest corner of Northampton (while still somehow being on King Street). All in all life is good. So I was surprised when in mid September it started happening. I began to wake feeling that familiar sensation—dread.
When I was in acupuncture school I existed in a world of dread. Every morning I would wake up in my cozy little bed and realize I had to leave my small town and drive into the heart of Boston for a full day of classes. The only thing that got me through those mornings was really good warm tea with lots of milk and about a zillion novels on tape. I assumed that once I was out of school the dread would go away completely. I mean, really, how could dread exist in a life where the commute is on bicycle and my biggest hardship is how many sheets I have to carry into the office.
But dread is not something we need to fear. When dread rears its ugly head it is asking us to listen. For most of the fall so far I have been too busy to listen and so the dread gets louder. My dread is revealing that something isn't right.
Think about the amount of energy you have at 5:00 on a Friday afternoon when you walk out of the office or on Saturday morning when you wake up with a weekend ahead of you without any structure or order. There is no dread. There is levity, joy and ease. Dread only comes around when we are overtired, overworked and usually a little dishonest about something. Dread tells us, quite honestly, that regardless of how much we initially thought we wanted to do something—we don't anymore.
I am writing this post because I believe I am not the only person in the world who occasionally dreads getting out of bed in the morning. In fact for most of us this is a familiar sensation. This significant, daily protest is worth listening to and honoring. Dread doesn't mean you are lazy or disgruntled, it means you are out of flow and not honoring your truest self.
Usually when the dread comes around I think about how I can ask for help. This time is no different. With me dread almost always suggest fatigue. It means I am overworked and need better scheduled time off. Sometimes it means I need more exercise. Sometimes it means more time with friends. Usually the second I ask for help and make a change, the dread recedes and the contentment and flow of life eases back. Dread is our little harbinger, our little warning sign that we need to make change. Dread can be a wonderful teacher if you have the guts to listen.
Copyright: ruigsantos / 123RF Stock Photo